Pastor John is a highly relational pastor with a great love for God, his family, our church and the coastal community where we live. John is a graduate of Biola University and Dallas Theological Seminary. He is known for his Bible teaching that seeks to make God's truth understandable and applicable to daily life. John is a vision-caster for NCFF and is committed to developing Christ-like leadership. He and his wife, Becky, believe the North Coast of Oregon is where God has called them to live and share the life-transforming story of Jesus.
Associate Pastor of Student Ministries and Communications
Brandon is driven by his desire to help students build a community that is all about loving God and others. He has his degree in Biblical Theology and has over 10 years of experience leading student ministries within coastal regions, considering US 101 as his Main Street. At NCFF Brandon gives vision and direction to middle school and high school students as well as to college age young adults. Brandon is also an accomplished creator and is the visionary for communication and vision here at NCFF. Brandon, his wife Jessica, and their son Will love the North Coast and know that God has called their family to serve NCFF and our community. He loves to explore the outdoors with his camera and to surf amazing waves.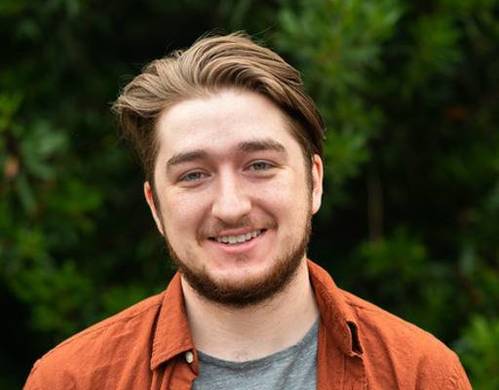 Associate Pastor of Worship Arts
Paul is a Pacific Northwest local who grew up in the church. He loves music and it is his heart's desire to lead God's people in excellent and engaging worship. He is a graduate of Northwest University in Kirkland, Washington, with a degree in General Ministries. Paul also spent a year of study honing his worship skills at Calvary Chapel School of Worship in Costa Mesa, California. In 2018, Paul married his wife, Sarah. In 2019, the Lord blessed them with their son, Deacon. It is Paul's prayer and hope to help God's people understand worship as the musical praise we bring to God on Sundays, and also as our way of life throughout the week as we prove to be the loving hands and feet of Jesus to others.
Associate Pastor of Adult Discipleship & Campus Care
This guy has a big heart and a big job. Joe facilitates our small group ministry and he also oversees the care of our campus. Joe's heart is all about providing loving ministry to people. He is known for encouraging everyone and is always the first person to help anyone in need. Joe is a graduate of Convergence, a ministry school designed to develop godly pastors and church leaders. Joe, his wife Amy, along their two girls, Chloe and Hannah, have been part of NCFF since 2017.
Marti is the warm smile, kind heart and true 'answer person' that greets you the moment you walk into the office. She has a background in office management and business ownership. Marti oversees the office operations and helps with the behind-the-scenes organizational aspects of events and Sunday worship gatherings. Marti will direct you to the person that can help you when you find yourself in need or are looking for a place of significant service. She and her husband, John, delight in living on the North Oregon Coast.
Children's Ministry Director
Sarah's desire is to see kids of all ages and stages encounter the life-changing love of Jesus Christ. With a master's degree in Secondary Education from Western Governor's University, she understands the intricacies of curriculum planning and working hands-on with children. Sarah leads a team of dedicated volunteers who create dynamic, memorable, and life-shaping experiences that not only teaches kids about Jesus on Sundays, but also teaches them important Bible memorization and discipleship skills through NCFF's midweek program to children called "AWANA."
Congregational Care Pastor
Dr. Gil grew up in a missionary family serving in Costa Rica. He is a graduate of Covenant College (where he met his wife, Patty) and received his Doctoral Degree in Marriage and Family Therapy from Denver Seminary. Gil is the founder of Seascape Counseling (serving the North Coast) and is also the Congregational Care Pastor here at NCFF. His duties include providing leadership to "Legacy" which is our ministry to adults who have been over the road, learned a lot and have a lot to offer. Gil also oversees our compassion ministries to people within our church and to the community in which we live.
Bella is NCFF's 2020|2021 ministry intern and a blessing to our team. She'll spend a year with us learning about the many facets of church ministry through a "hands on" approach. Bella grew up in our church family and exhibits a true servant's heart coupled with a humble learner's attitude. She has a strong desire to pursue God and create a relational environment for others to know Jesus and grow in Him. Bella works with our student and young adults ministries, manages social media, and provides support in the office and wherever necessary. Bella has been trained during the last several years through YWAM (Youth With A Mission) in New Zealand. Her current plan is to pursue overseas missions upon completion of her NCFF internship.
Collectively, as a team, the elders of NCFF are the highest level of leadership authority and responsibility, under Jesus, in our church. They are chosen on the basis of their Christlike character, their example of humble servanthood and their ability to spiritually lead. It is the desire of our elders to guide the direction of our church by discerning the Lord's parameters for NCFF's overall ministry. The elders empower the church staff with the freedom to lead their individual ministries within those parameters, working under the daily oversight of the Executive and Lead Pastors. If you would like to learn more about the role of our elders or communicate with them, please contact our church office.

Mike Regner | Chair
Jon Bletscher | Vice Chair
Dennis Gantenbein | Secretary
_________________________________________________
Ron Marks
Mark Kenny
David Nikula
Jim Pierce